Blog
How Berry Beautiful!
How Berry Beautiful!
Hello fellow bloggers, and hopefully fellow gleeks! That's right, Glee is back – bigger and better with season three! The season will see the introduction of some new singers, but finally we are all going to be reunited with our favourite crew, the New Direction gang! It would just be disloyal not to honour our favourite member of the Glee club, the most passionate little lady in the history of showbiz, of course, Rachel Berry.
Leah Michelle does Rachel Berry such justice in her performance, however Berry's choice of wardrobe isn't necessarily identical to the outfits Leah don's at red carpet events! Lets have a look at the hair history of the one and only, Rachel Berry.
Glee started with a preppy gang of adolescents. Rachel wasn't the most popular girl at school, and her hair didn't exactly stand out. With pretty average brown locks, Berry blended in with her looks, even if she didn't with her voice -
As the show developed, gradually so did Rachel's confidence. Although it wasn't sky high by the middle of season one, Rachel Berry stopped hiding behind child-like hair styles and allowed her hair to flow freely in a middle parting -
Season two saw the rocket of Rachel Berry. Souring in confidence and improving in style, this really was Rachel's time to shine. The new season also saw a new style from the Berry, adopting a full fringe for the show. What a good choice! Not everyone cal pull of a full fringe, however Leah / Rachel did it perfectly -
Now, I can't write a blog without honouring some of the most clever move's television has made – combining an American teen series with our all time guilty pleasures from the music world. Glee producers went all out when honouring our favourite songs, take a look at Rachel Berry as Greases' Sandy Olsson -
We think Rachel looks raunchy hot!! Or how about Berry as Britney?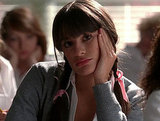 - we've just come to the conclusion that the Berry can't go wrong!